 Send Email
Industrial roller shutter repairs Sectional doors Reception doors
TEL: 0161 945 9828 24 HRS
PARAGON DOORS LTD
The industrial door specialist
Roller shutter repair and maintenance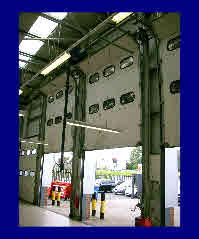 Sectional door repairs and Industrial door repairs
Roller shutter repair service
Industrial roller door Maintenance and repair
Paragon have the expertise to repair all makes and types of industrial doors.
Emergency repairs are made possible due to the large range of spares carried on on our vehicles.
We have a huge range of replacement sectional door panels, roller shutter sections, and carry a range of stock parts on our vehicles to effect immediate repairs to your roller shutter.
Just call us for a speedy quotation or for information on any type of Shutter.
Same day repairs
We carry a large amount of spare parts for most industrial doors and are capable of carrying out most repairs the same day. Where this is not possible we can secure your door for security whilst the required parts are manufactured.
Areas covered
Manchester Roller shutter repairs, Liverpool Roller shutter repairs,
Shutter repairs Blackburn, Chester Shutters, Ellesmere Port industrial door repairs, Preston shutters, Warrington shutters and surrounding areas
All our engineers are fully competent and hold full CSCS cards
We offer a free, no obligation, on site survey to assess the repairs to your roller shutter, security and entrance doors, and are able to provide on site quotations for those urgent repairs.